Along with a few of my friends, I joined the school choir this year, we go to choir every Monday during lunch and after school for an hour every Tuesday.
On Monday we practice our christmas songs for the annual carol service. We sing classic christmas songs like Silent Night
On Tuesdays we practice our piece for the 'Wesley School Choir Competition'. The song we are singing for this compition is 'Caresse Sur L'Océan', this is a french song!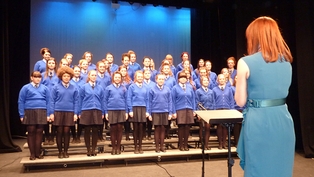 A school last year singing at Wesley
I'm really enjoying choir and I'm looking forward to our upcoming performances!